Note
---
Keep Your Valuable Source Code Hidden From Prying Eyes! Optional SheerPower 4GL GOLD Licenses are available.

Royalty FREE distribution---you can always distribute SheerPower-based applications to others---royalty free! And, you can do so without the optional SheerPower 4GL GOLD License, but you must provide them with the source code to your application.

In the SPDEV toolbar, click on the DEPLOY icon. This will bring up the Enter License Key dialog box. You can copy and paste your SheerPower 4GL license key information in here. Click on [OK] to proceed with the deployment of the program.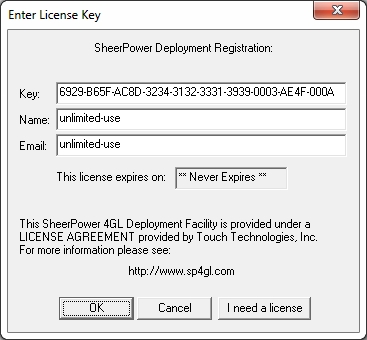 Note
---
You will see the "Enter License Key" dialog box the FIRST TIME you do a DEPLOY when newly running SPDEV. If you restarted SPDEV 5 times in a day, you would see the "Enter License Key" dialog box appear 5 times (providing you deployed each time).
The Deployment Properties dialog box will appear. You can choose to enter a Password to protect this program file, or any Deployment Text (such as copyright information) to include with the program file.
Place a check in the box beside Don't show this dialog again if you do not want to be prompted for password and deployment text information each time you click on the deploy icon.
Note
---
If you want to deploy a program with a password, you have to specify a password each time you deploy.
Click on the [Proceed] button to deploy the program.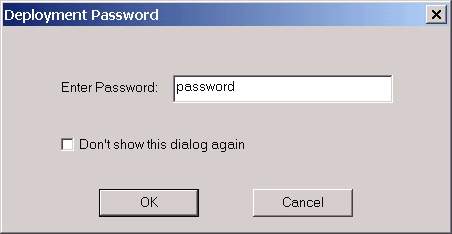 You will now see in the bottom frame of the SPDEV window that deploying the program compiled it. You will also see the number of lines of code, file size, and whether or not it was a clean build or if there were any compile errors.

Look inside your SheerPower folder (c:\sheerpower is the default location). You will see that a file named menu.sprun has been created.

This .SPRUN file allows you to distribute applications without the recipients ever being able to see the source code.